March 20, 2017
Top 5 Therapy Areas Leveraging mHealth Apps – Part 1
by Shweta Mishra
Bake your own Mobile Research App. No coding. No upfront cost.
Register Now
mHealth apps are applications that assist patients and clinicians in management of disease and overall wellness. According to the "mHealth App Developer Economics 2016" conducted by health research group Research 2 Guidance, in just last one year about a 100, 000 mhealth apps have been added to the market, making the total number of mhealth apps approximately 259,000 in circulation globally in 2016.
A report by IMS Institute for Healthcare Informatics published in September 2015 showed that mental health captured the maximum market share in mhealth apps sector, covering 29% of the 165000 apps then available in 2015.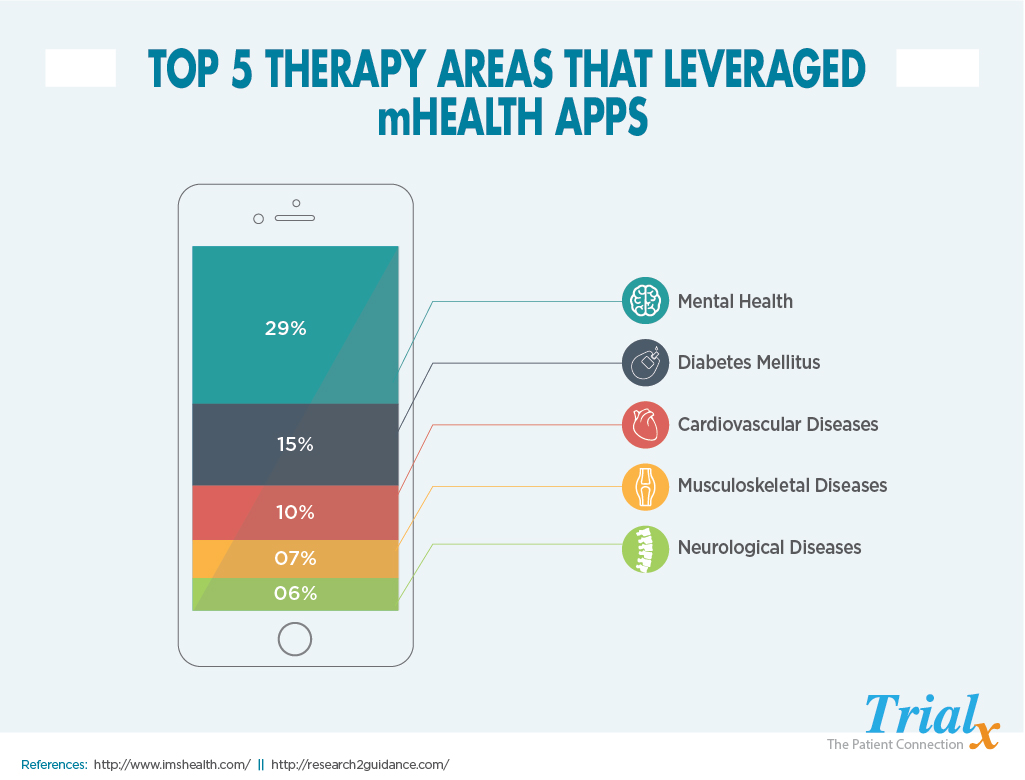 However, in 2016, Diabetes took the top position, covering almost more than 70% of the total number of apps available in 2016. 
Categories of mHealth apps
mHealth apps can be broadly divided into two categories:
Overall wellness apps –

These are apps which facilitate overall wellness by tracking your heart rate, breathing pattern, sleep, diet, exercise, and overall physical activity. Wellness apps like fitness and diet apps comprise 2/3

rd

of the mhealth space and are the most frequently downloaded apps.

Calorie Counter and Diet Tracker

,

Weight Watchers Mobile

,

Lose It!

, and

White Noise Lite

are some examples of top mhealth wellness apps as rated by doctors.
Disease specific apps –

These apps focus on management of a specific disease, its diagnosis and remote monitoring by tracking your parameters specific to that disease including medication reminders. For example,

Phendo

, an app that was developed by us, that helps in tracking endometriosis symptoms as experienced by the patients.

Glucose Buddy

app can help diabetes patients track their blood glucose levels. Disease specific apps comprise about a quarter of mhealth apps.
Top 5 disease areas that leveraged mHealth in 2015

Mental Health: According to a report by IMS institute of healthcare informatics mental health or psychiatric diseases had maximum number of apps for its management. A WHO report shows that about 450 million people suffer from mental or behavioral disorder. The report also says that mental disorder and medical illness are related and that depression is consistently high in people affected by chronic disorders. For instance, up to 27% of diabetics, and up to 46% of patients with tuberculosis have major depression. Among different categories of mental health conditions, Autism Spectrum Disorders (ASD) are expected to continue to rise and the cost of management of ASD is estimated to be more than that of stroke, hypertension and diabetes, by 2025 in the US.

mHealth apps for mental health occupied maximum market share – 29% of the total number of mHealth apps available in the market in 2015.

Some FDA approved mental health apps include: Fisher Fisher Wallace Stimulator, Spire, Pacifica, 1DocWay, RiseUP + Recover, and SoberGrid.

Diabetes Mellitus: With WHO's data showing that 8.5% of adults aged 18 years and older had diabetes in 2014, diabetes management has consistently been considered as a therapy area offering a strongest market potential, and has always been a popular target for mhealth developers. Still, according to  in 2015, IMS Institute for Healthcare Informatics, diabetes was at a 2nd position in terms of number of apps supporting its treatment and management, comprising 15% of the total number of mhealth apps available in the market.

Diabetes Logbook by mySugr GmbH ranks among top FDA cleared apps. It is an app where diabetes type 1 patients can manually enter their blood glucose levels and keep track of their diabetes.

Diabetes Manager by WellDoc is another great FDA approved diabetes management app that analyzes blood glucose information in real time and offers a personalized coach to help patients manage their treatment. It also facilitates interaction between healthcare professionals and patients.

Cardiovascular Diseases: Cardiovascular diseases (CVD) related mhealth apps followed diabetes in terms of numbers and accounted for 10% of the total number of mhealth apps available in the market. CVD are the number 1 cause of death globally. Given that ranking in terms of mortality, this number did not seem to be quite justified, and it did not catch up much in 2016 either.

AliveECG by AliveCor is a top ranking FDA cleared app that records ECG wireless during atrial fibrillation – the most common type of heart arrhythmia – and communicates the data to the physician. 

Other helpful apps available for heart patients include: Cardiio, ASCD risk estimator, blood pressure companion, and The Healthy Heart Meal Planner to name a few.

Musculoskeletal Diseases: Apps for treatment and management of musculoskeletal diseases comprised 7% of the total number of mhealth apps available in the market. Some examples of apps in this category include: NHS 24 MSK, PhysioAdvisor Exercises, MyRA, Rheumatrack.

Neurological diseases: Apps related to neurological diseases management and treatment comprised 6% of the total number of mHealth apps available in the market. EpiWatch, Epilepsy self management, Epilepsy tool kit, My Cluster Headache and Stroke Riskometer are some patient self management apps. Many apps that aid clinicians in clinical examination and management are also available, for example Easy EDSS, NeuroMind, 5-minute neurology consult and Neurotoolkit to name a few.

Read on for  "Top therapy areas that leveraged mhealth apps in 2016 – Part 2".

[cta message="Tap the Power of Smartphones for your Research" btn_label="Register Now" btn_url="